Your Expert Clearwater, KS Remodeling Contractors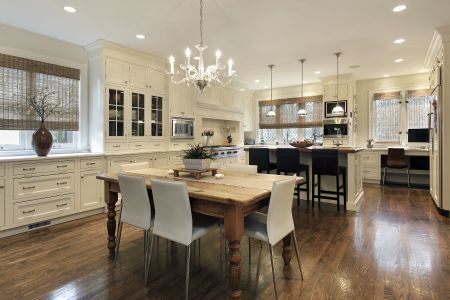 If you are wanting to update your Clearwater home, then remodeling is the right choice to make. Remodeling adds value to your home when it's handled right.
The best choice you can make is to hire a general Wichita Remodeling contractor who can fully manage the project for you. All the hiring of different contractors is handled by the project manager. At Blue Ribbon Construction, we take care of everything for you when remodeling.
Our owner is on every job site, and we only work on one home at a time. This ensures your Clearwater remodeling contractor project has all the attention it needs and that you deserve.
We can take care of all types of remodeling such as:
Window Replacement
Bathroom Renovations
Kitchen Remodeling
Finishing Out The Basement
Turning A Garage Into Man Caves
Building Custom Decks
Replacing Bathtub, Shower, & Floors
Why Choose Blue Ribbon Construction For Clearwater Remodeling?
With decades of experience in the industry, you'll have expert workmanship that is done right. If there are problems, we'll take care of it for you in a timely fashion. With us, you can expect:
Licensed General Contractors
Quality Work & Professional Service
Members of the Community
We Take Pride in Our Work
One Job At A Time
Owner On Site At All Times
Licensed & Insured
On Time Construction
Clearwater Bathroom & Kitchen Remodeling
Many people start updating their homes with bathroom and/or kitchen remodeling. This makes sense as these are the most used rooms in the home. Appliances get more energy efficient, flooring options get more extensive, and options only get better over the years.
Replacing your tub, commode, vanity, shower, and floors goes a long way to update the bathroom. Changing out kitchen appliances, flooring, and cabinetry will make a huge difference in the aesthetics and function of your kitchen.
There are many great options for kitchen and bath remodeling, so if you need help figuring out the project we are ready to help.
Custom Cabinetry
Stone or Tile Floors
Whirlpool Tubs
Walk-In Tubs
Double Showers
Double Sinks
Water Saving Toilets
Waterfall Showers
Energy Efficient Lighting
Granite or Marble Countertops
Kitchen Islands
Custom Storage
Clearwater Basement Finishing
You can do anything you want with basement space. Finishing out the basement gives you the opportunity you've wanted for more living or quality storage space.
Most basements are dank and dark until they are finished out. Blue Ribbon Construction can bring you more space to utilize your basement for crafts or hobbies, play areas for the kids, guest quarters, or entertainment space. Your wish is our command!