3 Reasons Basement Finishing Should Be Next On Your Remodeling To-Do List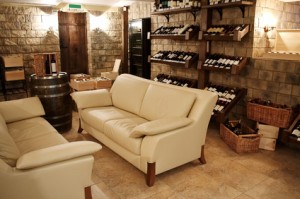 For many homeowners out there, the basement tends to function more like a storage garage than anything else. In the wake of the holidays, making use of your basement for this purpose is quite common among homeowners all over the country, but the sad fact of the matter is that you are losing so much of your basement's potential by relegating it to such a role. Having your basement professionally finished can open up a whole new range of possibilities when it comes to how you utilize your basement space, and the only real limits to it are your imagination. If you have been feeling the itch for a new remodeling project around your home for some time now, but you have just been unsure which project is the right one, we invite you to take a few minutes to read through this short list our team of professionals have come up with that might help show you why basement finishing belongs right there are the top of the list.
New Play Area For The Kids & Their Toys
After the conclusion of the holidays, most homeowners with kids certainly aren't lacking in clutter. Between all of the new toys and their packaging, it is very easy for your living areas to be completely overtaken. With a professional basement finishing, however, you can create that new playroom space for the kids that you have always needed. The space can be customized to give your kids a safe play area to enjoy all of their new toys, and we can even help you incorporate quality storage solutions to make the space entirely self-contained.
The Home Gym You've Always Wanted
With the arrival of the new year, many homeowners choose to make their resolutions about self-improvement, and many times, that takes the form of a brand new gym membership or home exercise equipment. Staying healthy and in shape is definitely a worthwhile goal, but for many homeowners out there, they either don't have the time or the energy to make it up to the gym on a daily basis between work and everything that needs to get done around the house. This is where basement finishing comes in. By remodeling your unused basement space, you can create your very own home workout room, giving you an excellent place to store all of that home exercise equipment that you've been struggling to find room for, and give you a convenient space in which to focus of getting healthy for the new year without the need for expensive gym memberships or a daily drive somewhere else.
Guest Bedrooms For Visiting Friends & Family
While most visiting family have likely returned home at this point to get back to work or their own family lives, it is never too early to start preparing your home for the next time you have friends or family coming into town. If you are tired of making your guests sleep on the pull-out couch or an inflatable air mattress, why not transform some of that unused basement space into your very own guest bedroom? Basement guest bedrooms can be a wonderful addition to your home, as they not only increase the amount of livable space in your house, but they also provide guests with a certain degree of privacy when they visit, as they will essentially have an entire floor of your home to themselves, giving them a more comfortable and enjoyable stay. Call Blue Ribbon Construction for more information today!