3 Reasons To Invest In A Kitchen Remodel For Your Home This Fall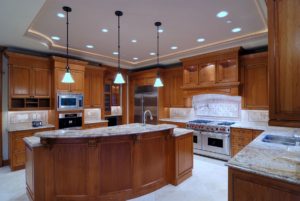 While most homeowners think of summer as the best time for home remodeling, you might be surprised to find that there are a number of remodeling projects perfect for fall as well. Your kitchen, in particular, can be a great remodeling project for the fall, providing you with an excellent opportunity to add a bit of style and some additional functionality to the space just in time for the coming holidays. Your kitchen is like the beating heart of your home, so why not take the opportunity this fall to make the changes you've been wanting to make for some time now? To help highlight just a few of the reasons that make fall an excellent time to remodel your home's kitchen, our team of skilled Wichita home remodeling contractors have taken the time to put together this short list for your reading pleasure.
More Time Indoors
With summer finally giving way to fall, most homeowners are likely going to find that they're spending more and more of their time indoors, especially as we move closer to winter. Because you and your family are likely going to be spending more of your time together in your kitchen later in the season and into the winter, now is the time to update your old kitchen space and make the kinds of changes that will make your kitchen a more enjoyable place for you all to gather and hang out. Whether you're just looking for aesthetic updates to improve your kitchen's comfort, or functional updates in preparation for baking season, you really can't go wrong.
Getting Ready For The Holidays
With the holiday season right around the corner, it's only a matter of time until visiting family comes into town and everyone is working in the kitchen to prepare a home-cooked holiday meal together. Unfortunately, many homeowners simply don't have a kitchen layout or the necessary space to do the kind of holiday cooking they would like, but a kitchen remodel can easily change that. The right kitchen remodel can help you transform your old kitchen space into the kind of cooking and entertaining space you've always dreamed of having in your home.
Install New Appliances
If new kitchen appliances are on your holiday wish list this year, or you're just planning on taking advantage of some sweet Black Friday sales this year, now can be a great time to change things around in your kitchen and make space for your new appliances. In addition to making room for any new appliances you've been eyeing for your kitchen, a fall kitchen remodel can also help you update the look of your old space and coordinate its appearance with the look of your new appliances to create a brand new, cohesive design you and your family are sure to love.