Bathroom Design for Remodeling Your Space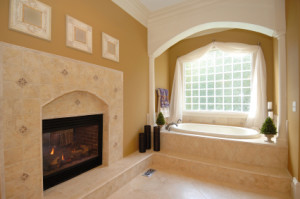 When it comes to the initial step in your bathroom remodeling project, the design step, you want to be sure you take into consideration what you will be using the bathroom for. Your plans for a master bath will be much different than your plans for a guest bathroom.
When you remodel the bathroom, you will either be able to redesign an existing space or you will be creating a new one.
If you are remodeling the existing space, you will be considering the existing elements of the bathroom, including where the fixtures and storage spaces are located. You may plan to remove or relocate existing walls and may have plans to resurface the floor, walls, or ceilings.
For a new space, you will be adding plumbing, electrical, fixtures, and possibly walls, floors, and ceilings and a roof.
Whichever the case may be, there are some other things you will need to be sure to include in your plans:
Lighting
Air circulation
Age of users
Layout
Floor plan
Color and texture scheme
Space utilization
Your new bathroom can't be appreciated or used if the lighting is poor. Sufficient lighting should be placed not only above vanities but also in darker areas such as above the shower, above the commode, or in storage closets.
When planning the lighting in your bathroom, you will be working with existing or new wiring. If there are existing light fixtures, you want to be sure they are sufficient and appropriate in brightness for the area being lit up.
Proper air circulation is critical in a bathroom. In fact, most code authorities will require either a ventilation system or window to be located in the space. Without good ventilation, the air in the bathroom will become too humid and will cause problems.
In high humidity, mold and fungi can grow rampant. The more warmth and humidity there is, the more you risk your and your family's health.
In planning your remodel, the age of the individuals using the new bathroom space will become important. For instance, if the bathroom is primarily used by young children, you will want to have space to store some bath toys or you may want to be sure you install double vanities so that more than one person can use the sink at a time. The color theme choices and what type of fixtures you install may also be different for children vs. adults.
When you plan how much space you will need for your new bathroom, it is wise to plan in a little extra if possible. Remember, families grow, times change, and your needs may change as well.
No matter the plan for your bathroom design, you must ensure that your budget and financing are worked out beforehand. This will affect your design right from the start.
If you can carefully work out your design, you will have a very successful bathroom remodeling project. But without a good design, you are likely to run into a multitude of issues that can turn into emergency situations where you are stuck with having to do something you didn't want to.
Of course, hiring the right Wichita remodeling contractor is of vital importance for your bathroom remodeling project. Blue Ribbon Construction is a fully licensed and bonded contractor that can help you with your design and implementation.
Our design team can help you create the space you truly desire, whether by transforming your existing bathroom into a relaxing, comfortable, place or by creating a fabulous, brand new master bathroom!