Home Improvement Projects That Are Perfect For Fall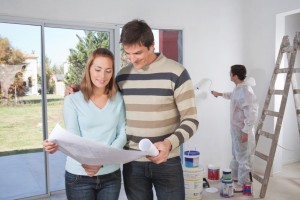 Autumn in Witchita is the ideal time to start taking care of home improvement projects. The weather is cool enough to making working on the home bearable, and the holiday season has yet to start so you have some free time. Your dream home is an ongoing project and it is important to stay proactive about making positive changes.
Where to Start
Here are a few ideas for seasonally appropriate home improvement projects to launch in the fall:
Build that deck!
Your backyard gets a lot of use during warm summer months. Family BBQs, games of badminton and pool parties abound. So, the last thing that you want to do is lose precious time outdoors while working on having the deck built, even if it is the deck of your dreams. You may even have a deck in need of repairs or replacement, and you want to get one last summer out of it. But now that summer is over, it is time to call in the pros and get the work done.
Set yourself up for winter weather with replacement windows.
The weather is just cool enough to be willing to have your windows removed, while waiting for the new ones to be installed. However, the best part is that once you have replacement windows installed, you will be even better prepared for winter temperatures. Quality new replacement windows are ideal for enhanced energy efficiency. That will make it easier for your heating system to work effectively, while reducing your energy bills. Plus, this is an important step in the right direction for making your house more green.
Press forward with that room addition.
If you are going to have part of your home opened and exposed to the elements, why not do it when the autumn temperatures have moved in? No matter what the reason is for adding on a room, you can take advantage of perfect weather and let remodeling experts provide you with a room addition. The best part is that if this home addition is meant to be a guest room, you should have it in time for holiday guests!
The Team to Call On
For over 30 years now, Blue Ribbon Construction has been expertly addressing the service needs of our clients, all year long. However, we love taking on fall home improvement projects; it's a season that is all about change and transformation anyway. Whether you know exactly what you want, or could use some creative inspiration, let us partner with you to make that happen.