Save Your Summer – There's Still Time to Enjoy A Custom Deck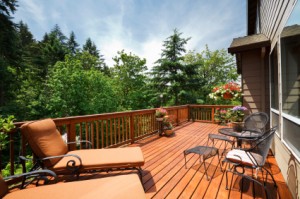 There's nothing quite as beautiful as a Wichita summer. So it seems a shame to miss out on what's left of it by staying stuck inside. Of course, for those savvy homeowners who have already made it a point to get an outdoor living space in place, this is not something that they have to worry about.
A fantastic option for an outdoor living area is a custom deck. This affords you and your family a place to enjoy the great outdoors, make summer memories and create bonds that will last a lifetime. Not to mention, you now have a place to host those social gatherings you always wanted, without worrying about having everyone crammed inside your home.
If you are still on the fence about whether or not a custom deck would be right for you, now is the time to familiarize yourself with the benefits. Once you see all the advantages that you could be experiencing, you will soon realize this is not a frivolous expense but a wise investment. Take back your summers and enjoy the weather, starting as soon as what's left of this one.
Benefits of Adding a Deck
Having the opportunity to add a custom deck to your home will do so much for your house, as well as your quality of life. Some of the advantages of adding a deck include:
You will finally have the space you need to host parties, without being separated from the guests. Host a social gathering in your home and your guests usually end up in the living room while you are stuck cooking in the kitchen. With a deck, you can play the role of grill master while still playing the role of party host, and mingling with your guests.
A quality deck will also help increase the property value of your home. Make it a point to maintain your deck over time, and your deck will be a big boost for your property value. So you don't have to feel as though you are wasting money since you are actually making a wise investment back into the property value of your home.
Decks are a great project to take on for improving your home, without taking on major renovations. Adding a room addition or full scale remodeling take a lot of time and money. A deck, on the other hand, adds a great deal of space but at a fraction of the cost and time. Plus, since it is on the outside of your home, it doesn't effect your day-to-day routine.
This is also just a great way to enhance the appearance of the exterior of your home. A well-built deck should enhance the landscaping and overall curb appeal. It should not look like something out of place tacked on as an afterthought. A quality contractor will be able to create a comprehensive design that compliments the exterior look that you already have going on.
Sign Up For Quality Service
By making it a point to call on the pros here at Blue Ribbon Construction, you can rest assured that you will love the final results that we are able to provide for you. With over three plus decades of hands-on expertise, you can feel good knowing that we will be able to provide you with the service, workmanship and results that you should be able to expect.
We take great pride in the work that we do, which is evident from the results that we are able to get for our clients, on every job we do. From custom decks to full scale remodeling jobs, we cover it all. We look forward to working with you and being able to provide you with the deck of your dreams for the home of your dreams.
We will work with you to gain a better understanding of what you and your family need from an outdoor living space. From there, we will create a design to meet those needs and add to the visual aesthetics. We are not satisfied until you are satisfied, with the final outcome.