Selecting a Size and Shape for Your Andover Home's Custom Deck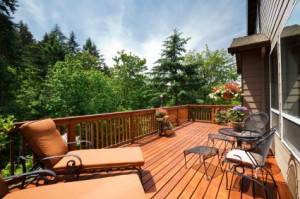 Two of the most important considerations involved in deck construction is the size and shape of a custom deck. Local building codes in Andover can restrict your design, but your remodeling contractor is a great source of information regarding custom decks. The primary factors that will influence the size and shape of your new deck is your budget and the deck's function, such as entertaining, dining, or gardening.
Choosing a Size for Your Deck
Key factors that contribute to the size of your custom deck include your budget, the space required, and the size of your house. You can determine how much space you need by visualizing the layout of outdoor furniture on your deck, and you can use your indoor dining and seating areas for inspiration. Your remodeling contractor can make sure that the proportions of your deck complement the size of your home. As a general rule, the size of your deck shouldn't surpass 20 percent of your house's interior square footage. Additionally, it shouldn't exceed the size of the largest room in your home.
Choosing a Shape for Your Deck
You don't have to limit yourself to typical rectangular deck designs because more creative options are available. As long as you have sufficient funds and a skilled remodeling contractor, you can customize your deck to be any shape.
Landscaping features often influence the shapes of decks, but some homeowners build tree-encompassing decks so that these features, such as trees, gardens, or flowerbeds, are incorporated into the deck design. Other deck designs include pentagonal, hexagonal, and multi-level decks. Pentagonal and hexagonal decks function well for homeowners who want to include a pool, hot tub, or fireplace on their decks, and multi-level decks break up elongated decks and are suitable for hilly locations.
Begin the Custom Deck Building Process with Qualified Professionals
Adequate planning at the forefront of the deck construction process will ensure that the entire process is smooth and timely. If you're considering a custom deck for your Andover home, reach out to experienced remodeling experts at Blue Ribbon Construction, and begin discussing your requirements and preferences with our team.