The Kitchen Island For Your Kitchen Remodeling In Wichita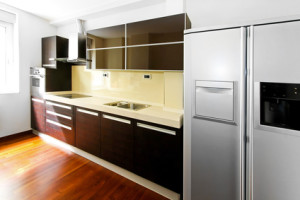 Kitchen islands are not only functional, but are a beautiful addition to any kitchen remodeling project you may have planned. One of the most popular kitchen islands are those that have built in stoves, cook-tops, and/or grills.
When you have a stove or grill in your kitchen, you'll want to be sure that there is a proper range hood and vent installed to capture smoke and heat from cooking, and then recirculate or route it away from the inside of the house.
With the proper hood and stove vent, you'll not have to worry about smoke choking you and the family out while you're grilling indoors. Also, any time you utilize a grill, you'll wind up with a little oil burning or pieces of the grilled food getting a little charred.
While you're certainly not burning your food, a vent system that doesn't work very well will only cause the smoke alarm to go off or will require you to air out the home. So ensuring your vent hood and fan work well for the type of area you're covering is the best choice you can make.
Other than functionality, the type and style of your vent hood and vent fan is wide open to match any architectural design or feature you like. Many modern styles come in chrome or brushed steel looks, while copper and wood will always remain classic beauties. A Wichita remodeling contractor can help you look at all of the available options.
Your vent hood and fan can be customized or can be of standard design, the choice is really up to you and your budget constraints, if any. But either way, the island cooking area will need to be sufficiently vented for your safety and comfort.
In older days, before kitchen islands became so popular in all the new homes, families would utilize the kitchen table as a sort of make-shift island. It served to offer more room for times of baking, vegetable canning, or even meat processing for smoking or storing in the freezer.
But today, the island is used instead, with many uses for the family as well. Your island can not only house the stove and grill area, it can also serve your other needs like additional seating for a bar area. Commonly, a small divider will create a different level for the seated individuals, giving the stove area more safety. This type of setup can be important if you have a family to think about.
There's nothing more fun than to invite a few friends or family member over for a drink of wine or your favorite beverage, and being able to show off your cooking skills right before their eyes. Imagine cooking your heart away while hungry onlookers watch you create their scrumptious meal!
Kitchen islands speak loudly to gather family, and they serve you well when you have other projects to do too. There's plenty of space to lay out some craft work, get those garden vegetables processed, or have the kids quietly do their homework while you cook dinner. Highly functional, beautiful, and the star of the show, the kitchen island design has won the hearts of many homeowners.