Top Tips For Picking The Perfect Bathroom Vanity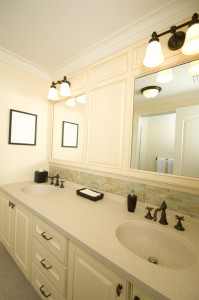 Whether you are designing a custom home or remodeling the one you already live in, the bathroom is an important space to focus on. When it comes to picking a bathroom vanity, it is about selecting something that is both beautiful and functional.
In fact, finding that perfect balance is where most people make mistakes; they focus too much on one or the other. Get some expert advice on what details could or should go into your vanity design.
Obviously, the type of bathroom and the space available has a lot to do with your decision-making. For example, your powder room is tiny and is usually not a place where you would need to store anything more than some extra rolls of toilet paper, so the vanity can stay small and basic. The master bath, on the other hand, requires plenty of both counter and storage space, along with dual sinks.
Guest bathrooms are often mistakenly treated like a powder room. However, you should have a vanity large enough to accommodate a traveling guest and all of their toiletries. As well as keep it stocked with things they will need like towels.
Keep in mind that it is an erroneous decision to select the vanity as if it is a freestanding piece of furniture that does not have to blend with other facets of the bathroom. Your selection should work cohesively with the flooring, the shower and even the lighting. Otherwise, it will stick out like a sore thumb.
Want More Expert Advice?
At Blue Ribbon Construction, we have the expertise to provide you with high-quality results and the reputation to back that claim up. Our focus is always on bringing your vision to life. If you would like to find out more about our custom bathroom and vanity design work, feel free to contact us now.