Basement Wet Bar Installation in Brush Creek Cir., Wichita, KS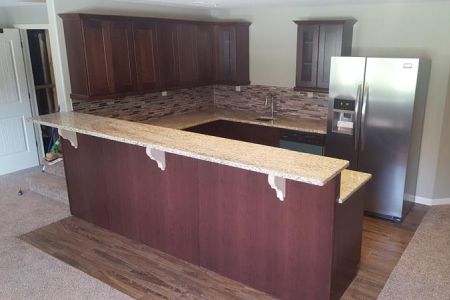 Blue Ribbon Construction was asked to build a basement wet bar for a customer in Wichita. The client had purchased a home with a finished basement, but it wasn't quite meeting his entertainment needs. The addition of a wet bar improves the space and allows for serving and storing beverages. Now, when the family or friends gather for some much-needed relaxation, they have a great wet bar to make it even more enjoyable.
The bar is supported by temporary wooden braces until the custom iron brackets arrive. The bar was designed to allow countertop space in the mini-kitchen and space for guests or family to be served drinks. The homeowner intends to install a TV above the sink. This custom basement makeover looks beautiful and makes the space much more functional.
Photo Gallery