Kitchen Remodel Project in Bentley, KS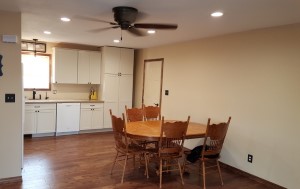 Blue Ribbon Construction has just finished a small kitchen remodel in Bentley Kansas. Partition walls are common is most older model homes. They were originally installed to give the area a defined space. However, Partition walls also close off an area giving a confined feeling. To give the house a more open concept feeling our client requested the removal of this obtrusive partition that separated the kitchen and living room into 2 areas. The removal of the partition also required a flooring change for this remodel. Old carpeting was removed from the living room and new wood flooring was installed throughout. New cabinets and countertops were installed to update the kitchen. Giving them plenty of storage and food preparation space.
Bentley Kitchen Remodel Before & After
Client Review
I can't believe how great it all looks and it was faster than the guy who remodeled our tiny bathroom 2 years ago.