Kitchen Remodel in Wichita, KS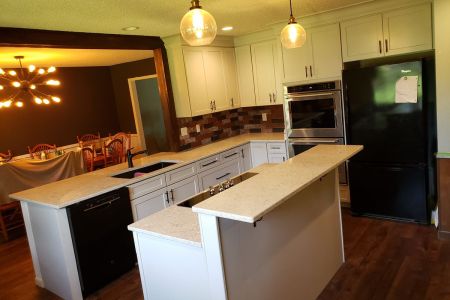 This client loves their home but there was was a wall seperating the kitchen from the dining room. Blue Ribbon Construction Co. along with their design associates, Pro Source of Wichita, were able to design a new space for the family. The design included removing the partition wall down to countertop height which accomplished to things. It allowed for additional counter seating and made the kitchen seem much larger.
The functional design included reallocating the cooktop to a new island and placing a double oven unit where the old range was previously located. This feature allowed for a double trashcan base cabinet that makes recycling a breeze. The microwave oven was also relocated to a pantry cabinet so it would no longer take up valuable countertop space. Beautiful quartz countertops and an undermount sink make this kitchen not only functional but breathtakingly beautiful.
Services Used in Project
Photo Gallery