New Detached Garage In Wichita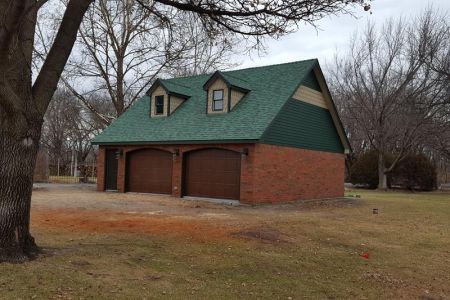 We here at Blue Ribbon Construction were recently given the opportunity to assist one of our valued customers by building them a brand new detached garage for their Wichita home. Our client loves to collect Harley Davidson motorcycles, and over the years, their collection had started to outgrow their home's three car garage. That won't be a problem anymore, however, as we built them a 30′ x 30′ detached garage that even comes complete with an interior staircase leading up to the attic loft. With this new detached storage space, our client will be able to reclaim their garage space without having to leave their exquisite collection exposed to the elements.
Our customer couldn't be more thrilled with the finished results of their project. With this new detached garage, our customer will now be able to park their cars, and safely store their prized collection at the same time. Here at Blue Ribbon Construction, we love projects like these because we are truly able to help our customers improve their quality of life inside their home by helping to customize it to their particular need. It was truly a pleasure to carry out this wonderful construction project for our new client, and we hope that they are able to continue enjoying and expanding their collection for many years to come.
Photo Gallery